We launched Anthropos a bit more than 6 months ago and since then we have been busy building our team and launching the first version of our product. As I like to say, our mission at Anthropos is to help people and companies build a better relationship for the long-term: for employees and individuals, this means having access to a proper platform to track and understand their careers, skills, and opportunities, while for companies this means having a solution to let their people grow, see a clear direction in their career path and build skills that are aligned with their companies needs. Giacomo and I believe that there is a new way for companies to manage their employees' growth and retention at scale and at the same time, we believe this model can work only if we provide to the employees a solid platform that helps them navigate their career, skills and opportunities inside the organization.
While our current version of Anthropos is mostly designed for people looking for jobs, our goal is to let individuals use Anthropos to manage all their career steps and make it the central platform they use to share their experience, learn new skills, and consider new roles or promotions using our extensive library of job roles and job simulations. Today we are moving the first steps in this direction with Anthropos Premium, our first paid version of Anthropos that gives our members access to unlimited usage of all our features and access to all the future functionalities we will add in the next months.
What's included in Anthropos Premium
Premium is a monthly ($4.95/month) or yearly subscription ($49/year) that allows our members to use Anthropos to autofill unlimited job applications, create and edit unlimited cover letters and run unlimited job simulations. Premium will expand over the next few months with additional features that are targeting any knowledge worker that wants to understand more about his career, skills, and potential opportunities – in the next few months you will see new job simulations in our library to prepare for interviews of different roles and departments but also simulations that are dedicated to specific roles to upskill yourself and learn more about transitioning in that specific job. Our free members will continue to enjoy full access to all our features with a limitation in usage: right now free members can autofill up to 12 job applications per month, create and edit up 3 cover letters and run up to 3 job simulation sessions.
Here is the new plans we have now available at Anthropos: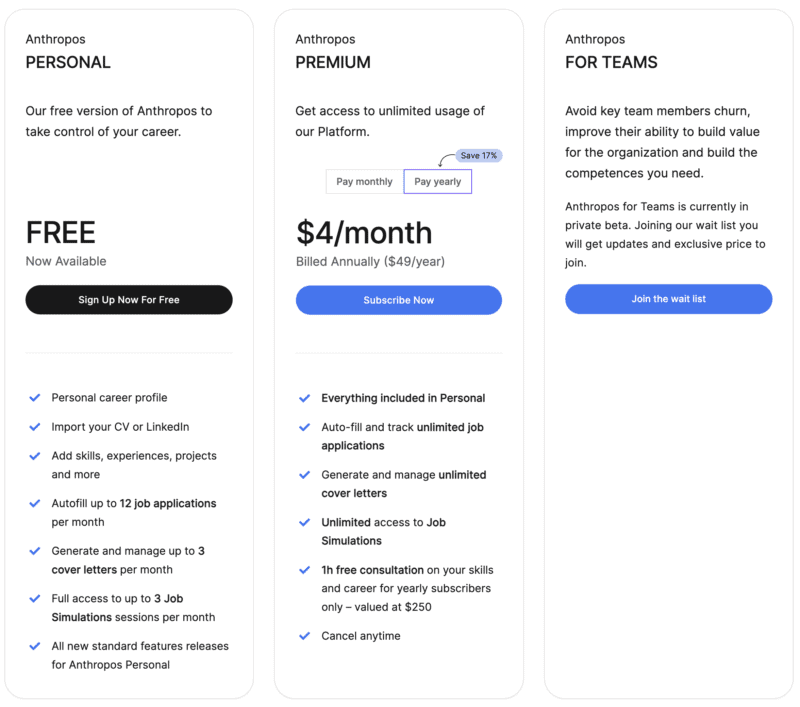 All our plans can be canceled any time and all our Premium members that subscribe for a year have a 1h free video call with a person of our team to review their career, goals and current challenges. Our team has 20+ years of experience managing people and helping teams succeed, we will focus on helping you with your next steps based on your goals and challenges and will send you a detailed recap of our conversation, with a recording of it. This offer is valid only for a few months, if we get a big number of subscribers unfortunately we will have to consider charging a fee for this.
Last but not least, Premium users have dedicated customer support that replies in a few hours. We can help you not only with our product but also with suggestions on how to improve your profile, cover letters, and specific roles you might be considering.
What's next
As you know we softly launched Job Simulations live on Anthropos without telling you much! This is changing in the next few weeks with more simulations going live and, most importantly, with a better introduction to this technology. In addition to that our team is working on a set of new features, including a new profile, that we will be launching in the fall. Our model is simple: all the features will always be available to all our members for free (starting with your career profile which will be public/private on your preference and will now help you improve your presentation of skills and experience) but we will limit them and give our Premium members unlimited access and usage. In short: if you find our solution useful you will likely pay for it to use it more, otherwise, you can remain a free member and still get value from our solution.
Stefano
It may also interest you
A blog to rethink work and career
This blog wants to help you understanding how to improve your career, acquire new skills, move to new industries and in general, how to deal with your job and think about it in your career context.
You can also find all the updates and news features of Anthropos.
If you feel this is helpful, sign-up for our newsletter, Square One.
A place to talk about work
Recent post